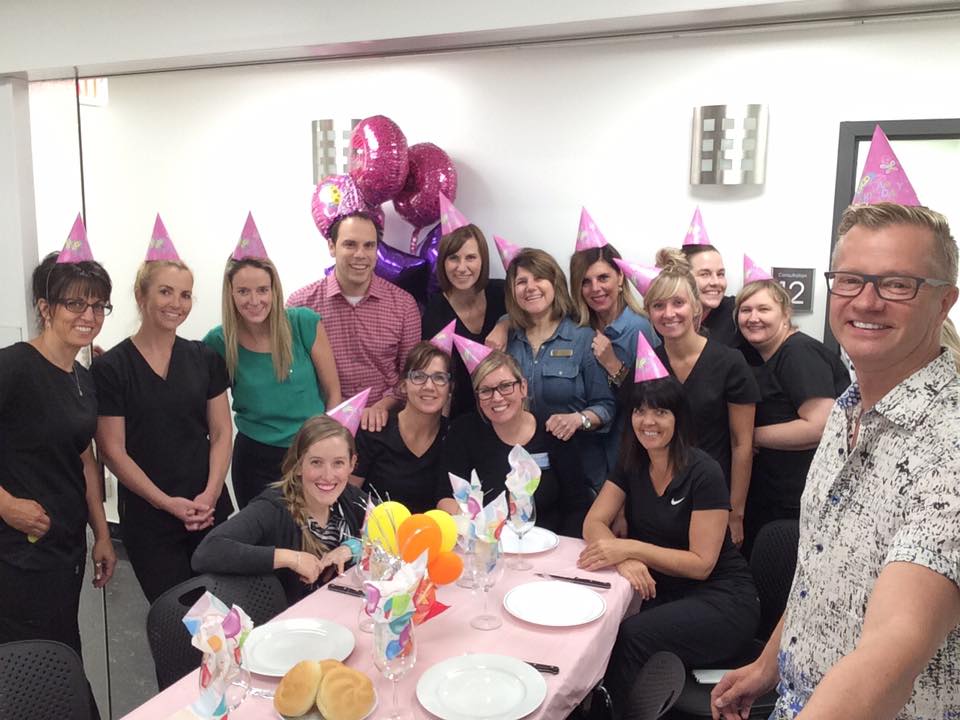 Your STRAIGHTSMILE Team
At Floreani O'Toole Dool Orthodontists, we are committed to providing each of our patients with gentle, effective orthodontic treatment, to create a beautiful smile. Whether you have an appointment with one of our orthodontists or are meeting with a member of our STRAIGHTSMILE team, you can rely on an experienced individual whos main goal is your comfort and giving you a beautiful, healthy straight smile.  We know the positive difference that having great oral health and straight teeth has in our patients' lives, and we would like to make that difference for you.  In fact 12 of the following 18 people were treated with braces by Doctors Floreani, O'Toole & Dool!
"Celebrating the 25th Anniversary of Floreani, O'Toole & Dool Orthodontists"
Carla
Dental Hygienist
Carla is one of our friendly and gentle dental hygienists. Carla and her husband, Steve, have two children, Eryn and Scott, and a German shepherd named Grace. They enjoy spending time as a family camping on Lake Superior.
Sherry
Dental Hygenist
Sherry has been with the practice for over 15 years. She and her husband, Bill, live on the shore of Lake Superior. As avid outdoor enthusiasts, they enjoy sea kayaking, mountain biking, camping, and cross country skiing, just to name a few.
Chantal
Dental Hygienist
Chantal is one of our dental hygienists. Her duties include placing and removing braces, and instructing patients on how to keep their teeth healthy while undergoing treatment. Chantal loves spending time outdoors, especially snowboarding and cross-country skiing, and being with her family.
Kristie
Dental Hygienist
Kristie joined our team in 2000 when she graduated from her Hygiene course in Ottawa. She enjoys working with the orthodontic patients and loves to hear their stories. Kristie is very active with her new family and enjoys camping in the summer.
Christine
Dental Hygienist
Christine has been a hygienist in our office for over 20 years. She enjoys spending time with her two children, Tayler and Colby, and her husband, Anthony. She is a wonderful baker and often brings homemade treats to our office.
Rachel M.
Dental Hygienist
Rachel joined our team in 2008 after working in general dentistry for six years in Wawa. Some of her hobbies are camping, hunting, working out, and family activities with her daughter, Shannie, and son, Nicholas.
Courtney
Dental Hygienist
Courtney, one of our dental hygienists, recently joined the Straight Smile team. She graduated from dental hygiene at Cambrian College in 2014 and dove right into her orthodontic journey. She enjoys laughing, outdoor activities, watching movies and spending time with friends and family.
Sarah
Dental Hygienist
Sarah one of the newer dental hygienists to join the team at Floreani O'Toole Dool Orthodontists. She graduated from Ottawa in March 2011, and began her career in the Orthodontic field. In her spare time, she enjoys camping and spending time at their family cottage with her husband, daughter and dog.
Rachel S.
Dental Hygienist
Rachel has been working as a dental hygienist since 2009, and immediately embarked on her orthodontic career. She joined our team in 2016 and loves that the office keeps up on the latest technology, modern procedures and techniques. She enjoys the field of orthodontics because every day is different, and no two patient cases are the same. In her spare time, Rachel enjoys walking, hiking, and spending time at her family's camp with her husband and dog.
.
Our Preventive Dental Assistants
Corrine
Level II Preventive Dental Assistant
Corrine is one of the Level II Preventive Dental Assistants in our office, with over 20 years of experience. She will likely take your initial pictures at your first visit. In her free time, she likes to spend weekends at our local ski hill in Searchmont.
Tammy
Level II Preventive Dental Assistant
Tammy is our second Level II Preventive Dental Assistant. She worked many years in the dental field but enjoys orthodontics the most. With her great skills of making the patients' retainers, she has had the opportunity to see the beautiful smiles created.
Kerry
Level II Preventive Dental Assistant
Kerry is our third level II preventive dental assistant. She is one of the newest members of the Floreani, O'Toole & Dool team, and brings with her over 19 years of experience in the dental field. Kerry takes pride in living a healthy lifestyle by spending time outdoors, walking, skating and snowshoeing. She loves spending quality time with her family, especially camping in the summer.
.
Whitney
Office Manager
As our office manager, Whitney can most often be found doing consultations, coordinating appointments, and setting up financial plans. Whitney enjoys living on the outskirts of town with her husband Justin and daughter Charlotte. Whitney is an avid yogi & loves the challenge of hiking, biking and snowboarding.
Francine
Accounting
With a degree in business (Laurentian University) and many years of experience, Francine is in our accounting office. Also manager of Great Lakes Honda, she welcomes any patients to visit for any vehicle or small engines needs. She loves to snowboard and ski with her family.
Patricia
Office Coordinator
Pat, our office coordinator, is likely the first person you will meet in the office. Pat has worked for more than 20 years at her position and prides herself in helping patients with their questions and concerns. She recently took up cross-country skiing with her husband, Steve, and enjoys travelling to visit both of her children whenever possible.
Alana
Treatment Coordinator
Alana is one of our treatment coordinators, she assists our new & returning patients with anything they need to start their orthodontic treatment off right! In her free time, Alana spends time with her husband, Vinny, and her daughters, Zara and Zen. She also enjoys cross-country skiing, hockey, water sports, and baseball.
Rose-Ann
Treatment Coordinator
Rose-Ann came to our office with almost 20 years of experience in the dental field and has now been the practice for over 15 years. As the main treatment coordinator, she helps the new patients understand the treatment recommended by the orthodontists. Rose-Ann and her husband, John, enjoy traveling whenever possible.
Henrietta
Appointment Coordinator
Henrietta has worked for 15 years as an appointment coordinator, you may recognize her from Dr. Crawfords/ O'Toole's former office. Henrietta enjoys playing with her three young grandchildren, loves the outdoors, and keeping physically active by working in her yard, walking, and biking.
Contact our office today to schedule your FREE consultation